Do you love Wish so much, you want to shout it from the rooftops? Save your lungs and earn some Wish Cash by sending first-time customers your Wish Referral code.
What is Wish's Referral Program?
If you have a Wish account, you'll be given a unique, personal referral code to share with your friends, family, frenemies, or anyone interested in checking out the marketplace.
You'll receive rewards when new users enter your invite code before completing their first purchase ($10 min). These codes cannot be customized and are only eligible for one referral reward per individual.
Here's how to find and share your referral code:
Tap "

≡

" located in the bottom right of the menu bar.

Click on the "Earn $100" prompt.

You'll see your invite code in the middle of the screen, a list of who you've successfully referred, and the reward you received for each referral after their order ships.

If you find an item in the app you can't keep quiet about, click on the

Share

button to send your invite code to your friends and family.
Who is eligible for the Referral Program?
The referral program is available for all Wish customers. Just make sure you have the latest version of the app!
When do I see my earnings?
You'll receive a notification once your referee successfully places an order with your code and the order ships. Your rewards can be found in the Rewards section of your Referral Program Dashboard.
Referral rewards are added to your Wish account in the form of Wish Cash and will be granted 7 days after a referee's order has shipped.
How do I cash out my earnings?
Any Wish Cash earnings you receive for referrals will automatically apply to your order at checkout.
Why are my referral earnings 'Pending'?
If your referral reward appears as "Pending", that means someone you've referred has placed an order with your code but it hasn't shipped yet. Once their order ships, you'll see the reward added in your Earnings Center.
Is there an earnings limit?
The earnings limit for your referrals is $5 every month and $100 total.
Users can receive double rewards for every new customer they refer to Wish during a limited time window. If you see the Limited time referral bonus message (only in the app), your limit increases to $10 for the month and $200 total. It'll look something like this: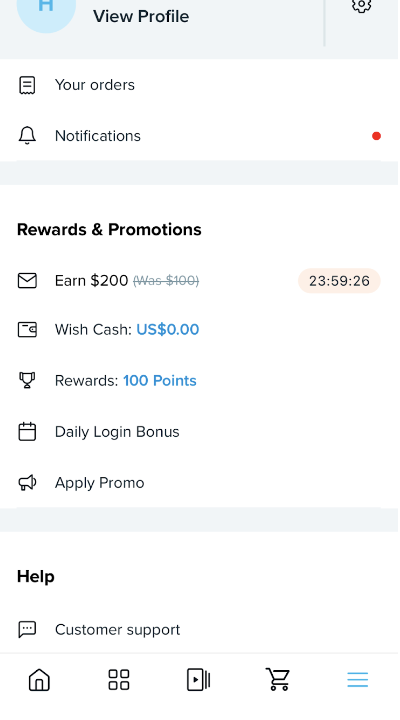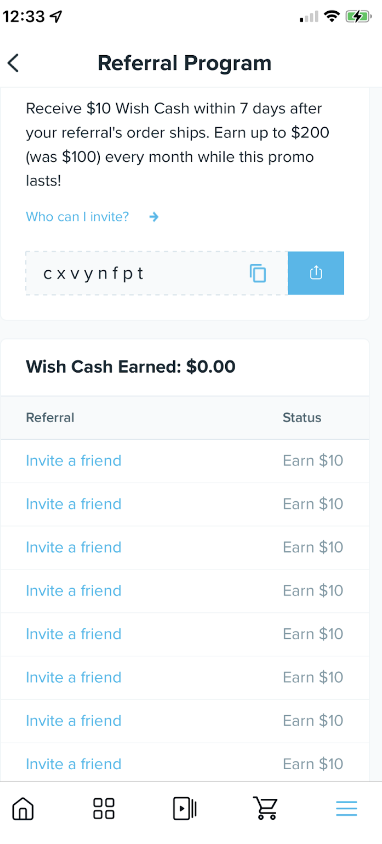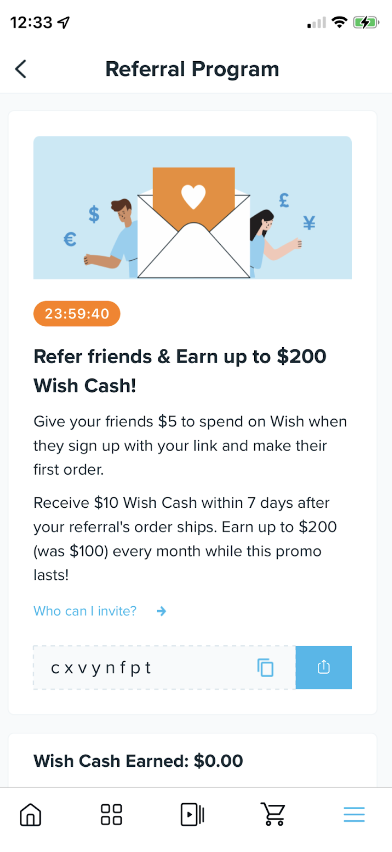 Keep in mind that your referee must use your referral code and meet the requirements within your limited time window to receive double rewards.
Why didn't I get my referral earnings?
There are a few reasons you may not receive your referral earnings:
Your referee forgot to apply your promo code to their first order

You have earned the maximum referral amount for the month, or the total maximum referral amount

Or your referee didn't meet the dollar threshold for the referral coupon
In order to earn the Wish Cash, please make sure that your friends are using the shared link in the messages and applying the promo code when prompted in the Wish app.
My friend sent me their referral code. Why isn't it working?
In order to receive the referral discount:
You must be a new Wish customer who has not made a purchase

Your order must meet the $10 minimum

And you must apply the referral code before completing their purchase
If you're not sure your referral code worked, check the Order Summary section for the Referral Credit in your Order total.
Why did my earnings drop?
Referral earnings depend upon successfully placed and shipper orders using your referral code. Your Wish Cash balance will decrease if a referee canceled their order or if the order is refunded because it was flagged as incomplete.