At Wish, we aim to keep you looped in on your order's status from the moment you check out to the time your item reaches your doorstep. Here's what your order's journey looks like at a glance.
Step 1

Order placed

Step 2

Ships

Step 3

Local carrier

Step 4

Order delivered
Order placed Once placed, orders are processed and sent to the merchant for fulfillment. You'll receive an order confirmation email with an estimated delivery date range.
Ships

We'll send you a shipping notification email with tracking information. If it's traveling internationally, your order may get its passport stamped through a few sorting facilities.

Transferred to local carrier After it de-boards at a facility close to you, your order will be picked up by a local carrier for the last leg of delivery.
Order delivered Party time!

Your order has arrived.
Still waiting? Read on to learn how you can follow your order's travel progress and what to do if it hits a bump in the road.
How do I track my order?
You can track your order's progress through the Order History page or from the shipping confirmation email sent to the email address associated with your order. It's important to note that some international shipping companies are unable to provide real-time, detailed delivery tracking.
Additionally, some merchants opt to not use final carrier tracking for standard shipping. While tracking may not be available every step of the way with this option, we pass the savings on directly to you! Learn more here.
Who delivers my stuff?
Carriers may vary depending upon the shipping method and the order's final destination. For most major markets, orders may use both international and local carriers to deliver your package. We have a list of the different carriers we work with here.
Why are shipping times so long?
We're working towards more reliable Estimated Delivery Date Ranges in an effort to ensure you receive your item within the timeframe we provide. You may see longer delivery times as a result.
You can learn more about what impacts these estimated dates here.
My order is marked 'delivered', but it hasn't arrived.
When you can't seem to locate an item that's been marked 'delivered' in the tracking, here's a few things to check before sounding the alarm:
See if a notice of attempted delivery was left by the carrier

Double check your shipping address from your Order History to ensure it shipped to the right place

Check the surrounding area of your mailbox, front door, or back door to see if the package is hidden somewhere safe nearby

Confirm that someone else didn't accept your package, such as a building manager, neighbor, or household member

Check with the carrier to see if they delivered your pack to a verified pickup location instead of your delivery address

Make sure there are no additional VAT or Customs

VAT taxes or Customs duties/charges required to complete delivery of your goods

Check with your local postal office or the private delivery service office indicated in your order's tracking history
At times, carriers get ahead of themselves and mark an order as 'Delivered' before it actually turns up on your doorstep. We recommend waiting a day to see if it arrives.
If your item still hasn't appeared 24 hours after it's marked as 'Delivered' and you're in the US, we recommend starting a Missing Mail search with USPS. They may be able to help you find your missing item!
If you get stuck or need further assistance, you can always get in touch with us through Wish Assistant or chat with someone on our Customer Support team.
Why does Wish's tracking look different from the tracking website?
Because we use the information provided from the carrier's tracking site, the messaging you see in your order details should match. However, they may look slightly different when tracking is updated or if the item's label has been created, but not yet scanned.
If you're looking for more detailed information, click on the tracking link provided in your order history like so: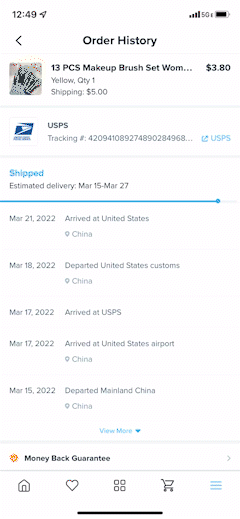 What happens if my order doesn't arrive?
Have no fear, deliveries are covered by our Money Back Guarantee. If your order doesn't arrive by the Refund Eligible date indicated in your order details, get in touch with us through Wish Assistant to get some help.
For more information about our refund policy, click here.