What is Wish Cash?
Wish Cash is store credit that can be used to purchase items on Wish. You can earn Wish Cash through special promotions or you can select Wish Cash as your refund method when canceling an order or requesting a refund.*
Wish Cash can neither be used to purchase items outside of Wish nor converted into real-world currency.
*Please keep in mind that not all refunds are Wish Cash eligible. You can learn more about our Returns and Refund policies here.
How do I check my Wish Cash balance?
There are a couple of ways to check your Wish Cash balance:
From the website, hover over your icon in the top right corner of the screen. You'll see your available balance under the Wish Cash option.

From the app, head to your Settings in the bottom right corner. Scroll down to Wish Cash to view your balance. Check out this neat gif below to see this in action!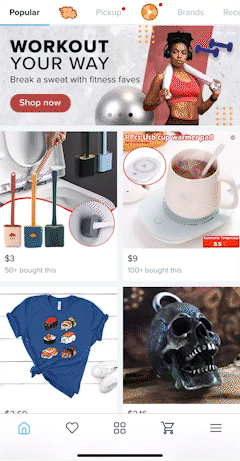 How do I use my Wish Cash?
Wish Cash will automatically apply to the purchase price of an item as well as the shipping fees and taxes associated with the purchase.
If your Wish Cash is less than the order amount, we'll use the remaining balance in your Wish Cash account and default the rest of the payment to your preferred payment method.


Why is my Wish Cash not applying to my order?
This could be that your currency settings do not match the currency your Wish Cash has been distributed in. To fix this, you'll have to change your currency settings in your Wish Account.
Here's how to update your currency settings:
From a non-mobile device, open your web browser and go to

www.wish.com.

Log into your Wish account.

Hover over your profile name in the top-right corner of the screen, and click

Settings.

Click

Account Settings.

Scroll to the bottom of the page to find the

Currency

section.

Click on the drop-down menu to select your desired currency.
Where can I find more information on Wish Cash?
You can find more information by visiting our Wish Cash Policy page.