Personal and payment details
We do not rent, sell or share information except as described in our Privacy Policy.
We protect information as described in Section 6 (Security) of the privacy policy, and we may share your information as described in Section 5 (Information Sharing).
Account security
If you think your account is compromised or there has been unauthorized activity, please send us a message at support@wish.com. We recommend including in your message your user ID and any order number that seems suspicious. You can find out how to locate your user ID under the Terms of Use and Privacy Policy links in your account settings: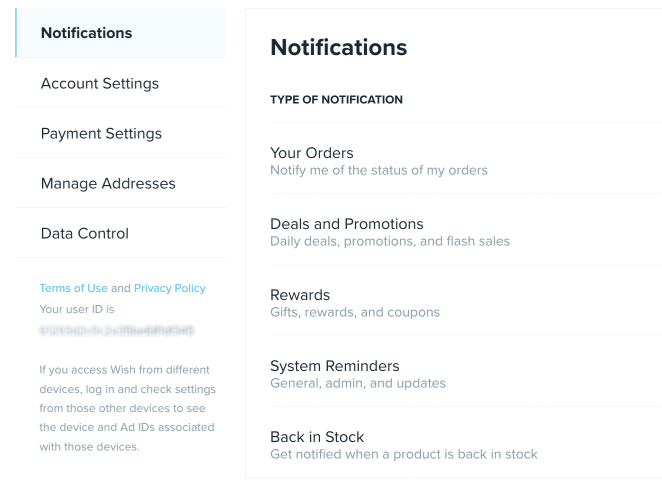 If you can't access you account, please send us a message at support@wish.com and include an old Order Number and / or your user ID.
Once we receive your message, we'll be able to help you from there.
We also recommend changing your password on your Wish account to a new, unique password.
Account takeover
Account takeover is a form of identity theft where a fraudster gains unauthorized access to a victim's email account, e-commerce site, or any other variety of online accounts. Unfortunately, this access can lead to fraudulent transactions and / or unauthorized shopping from the victim's account.
Account takeovers may occur when customers use the same username and passwords for a variety of their online accounts. If these email and password combinations have ever been illegally exposed, fraudsters will generally attempt to try these combinations on different online sites until they have successfully gained access. From there, they may change the account's email address or password so that the original account holder is locked out of their account.
Wish is very serious about protecting your privacy and we are constantly working to address these issues. To make sure you don't fall prey to these fraudsters, we recommend a couple things that you can do to protect your account:
Update your password and do it regularly

: If your password has ever been illegally exposed, please update your password immediately. You can check if you have ever been hacked

here

. We also recommend that you change your passwords every couple of months.

Use different and strong passwords

: We recommend that you use a different password for each online account. This also means making sure that you use a strong password that is a combination of letters, numbers, and unique characters.
If you feel as if your account has been compromised and there are unauthorized transactions on your account, please email us at support@wish.com.