Since items may ship from multiple merchants, shipping costs are applied separately per item and not per order. Shipping costs vary and depend on the size, weight, and destination of your order. You can view the shipping cost per item in your cart at checkout.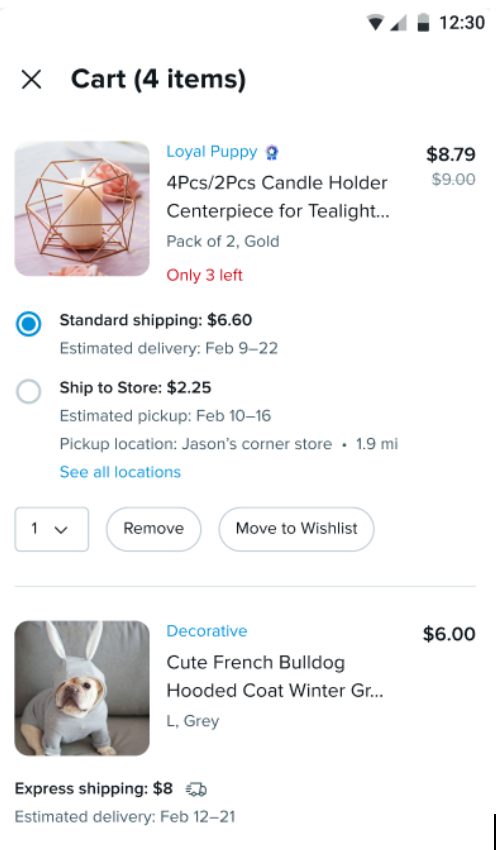 Merchants choose the best way to send their items and may ship your items in separate packages or all together in one combined shipment. If you'd like to learn more about the Ship to Store option, head on over to this section here.
We now offer flat rate shipping on most items to save a little more on your next order. Flat rate shipping allows you to pay one flat shipping cost of $2.99 for your order (when you spend $10 on eligible items). This promo is only available in the latest mobile app version for our US customers, but we hope to make it available in more countries soon. Check out this article to learn more.
Why did the cost of shipping change when I added the item to my cart?
There's a couple of reasons why you may see the shipping cost change:
1. Updated shipping address information
Shipping costs will vary depending on where you ship an item. Sometimes we'll need to update the shipping price if you've updated your shipping address.

In some cases, additional taxes, duties, and other customs clearance fees may also apply.
2. Changing market conditions over time
Prices and shipping costs can change due to market conditions changing throughout the day or week. If you've been looking at an item for a while or it's been sitting in your cart for an extended period of time, the price and shipping cost may increase or decrease.

Shipping costs can also vary depending on changes to the shipping carrier's own costs, fees, and passed-on charges to merchants.

Merchants may update their own independent costs, which will change the overall transactional cost (e.g., price and shipping) for an item.
United Kingdom order invoices
If you're in the United Kingdom and need an invoice, visit your Order History page and click Details to find your invoice. You'll also receive an order confirmation email once your order has been successfully placed.
Please note that stores may not include an invoice with your order.